No doubt the pressures of quarantine are making everyone a little edgy. Have you wished you could at least make your self-isolation an escape from the distractions of everyday life?
For groups traveling from or returning to overseas or families in isolation due to possible exposure, going home and staying there is often isn't an answer.
It's tough to focus on productive action or team-building or any single subject when you have to concentrate on keeping infection from spreading to friends, family, business. It's also really no fun!
Whether it's a mandatory isolation period due to arrival from a foreign country or a quarantine period to ensure family health, we've got everything you need. You can be appropriately isolated and physically distant on our 240 acre campus and enjoy time in nature.
From individuals to small groups, we've got the space for you. Learn why Pali Retreat is the best place to self-isolate near Los Angeles.
Travel Distance
Pali Retreat is just 90 minutes from the major metropolitan areas of Greater Los Angeles, Orange and San Diego counties. It is just 7 miles away from the community of Running Springs and is serviced by Ontario and Los Angeles International Airports.
Even though Pali is so close to the urban metropolis, it is an uncrowded, unspoiled mountaintop in the San Bernardino mountains. You can enjoy wide-open spaces with limited personal interactions.
Transportation to and from Ontario and Los Angeles International Airports is easy and may be added to your stay package.
Our Indoor Work Spaces
Group isolation doesn't mean work or interaction must end. We have wi-fi connection throughout our cabin and classroom complex. Formal classroom-style space, conference rooms or indoor lecture spaces are no problem.
We have sixteen distinct spaces suitable for formal and informal events. Of our inside rooms, Huckleberry Hall is one of the largest. In a theater setting, it can hold up to 500 people. Even with the recommended 6 foot radius around each person, it can hold nearly 100.
Do you need more of a traditional classroom, with whiteboards and everything? We've got several traditional meeting rooms that hold anywhere from 35 to 120 guests. Our rooms include podium, a/v equipment, desks, tables – everything you'd need for a workshop or teaching event while in isolation.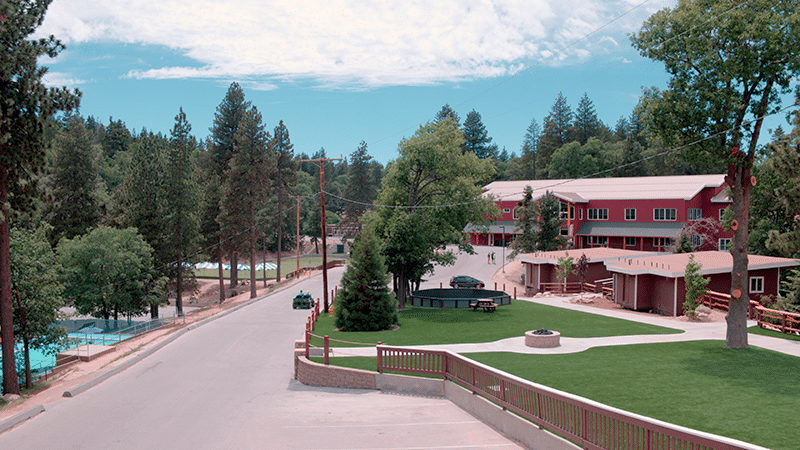 Outdoor Meeting Spaces
Want to get your group into the great outdoors?? We have outdoor theaters/meeting spaces that can hold a hundred or more guests at the recommended density. Our outdoor amphitheater, the Pali Bowl, comes complete with a stage, sound and projection equipment, and awesome views.
For something smaller, check out Acorn Hollow. It can comfortably seat 125 in normal times and is surrounded by beautiful woods.
You'll love Overlook, which can hold 200 guests in normal times and has (you guessed it) beautiful views. Our meeting spaces also come with wi-fi and your group is welcome to bring snacks into these spaces.
Accommodations
You're going to spend time at Pali Retreat in the great outdoors. You have to rest sometime, right?
We have group cabins, villas and private rooms. Our group cabins feature communal (and comfortable) built-in bunks and radiant heating and cooling. Bring your own sleeping bags for the least costly isolation period.
If your group is not arriving with bedding, we can supply linens. There is a charge for this service.
Our cabins aren't any run-of-the-mill shelters, either. They have two or three residential-style full bathrooms for privacy, with radiant heat floors. No cold high school locker room memories here!
Group leaders (or organizers) are assigned private rooms, with bedding and wi-fi included. The private rooms are on the top level of our cabins, so you are still connected with your group. There's a communal lounge area for your group to unwind (with suitable social distancing) with couches, fireplaces, and scenic views.
Food and Catering
After you've gotten some rest on the first night, you're going to be hungry for more of the great outdoors and just generally hungry the next day. Don't worry – we have an amazing executive chef on-hand that can help prepare the perfect menu for your group.
Our resident chef and staff prepare healthy, nutritious and delicious menus that our guests love. Our meals are prepared on-site daily, from scratch.
You can start your meals or your mornings with freshly baked breads and pastries, straight from our on-site bakery. Our meals are served buffet-style. We take all sanitary precautions to ensure no cross contamination.
Click here to see a sample menu. Talk to your Pali Retreat representative about making a menu perfect for your event, that your guests will love.
Activities and Fun
No mandatory isolation is going to be fun and games, but we're not lacking in fun activities. Seriously! We don't have time to list them all here.
We can engage your group in something as thrilling and death-defying (really not that risky) as our zip-line or swinging out over a canyon in our giant swing. Or how about a socially distant campfire with s'mores ?
Pick from other choices like Arts and Crafts, , paintball, a rock climbing wall, swimming, and more. You can see our choices of fun activities for all ages here. You and your guests won't get bored, we promise!
Health and Safety
Our medical infirmary can host nurses 24 hours a day,  seven days a week to monitor temperatures and watch for symptoms.  We have a basic health center on our campus and the regional hospital is only seven miles away. 
Our housekeeping staff cleans and disinfects high-touch areas several times a day. Bathrooms and cabins undergo a deep cleaning between guests. We have a full-time staff on campus and limit our interactions for guest safety.
Isolate in the Great Outdoors
Are you ready to come up to Pali Retreat now? You won't regret our unique facility for isolation. It's close enough to modern life to handle any unlikely emergencies, but far enough away from the from everything until you can reunite with loved ones.
We have all-inclusive packages to make group isolation planning that much easier. We're happy to customize something for you as well.
Click the Chat box to the right for immediate information online or give us a call at 909-939-0855 to get started!